Currently viewing the tag: "apache"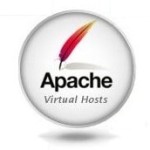 Scenario
——————————————————————
You are maintaining several web-sites (site1.com, site2.org, etc…). Having just one web-site at localhost with all files (DocumentRoot) at /var/www/html is not an option for you. You need to be able to test all of them and to access them in a convenient way.
Solution
Setup apache with Virtual Hosts, […]
Continue Reading

→
I tried to install a drupal site in a sub-directory of a domain and I ran into some problems. I will explain here how I solved them.
Many forum topics and issues on drupal.org and elsewhere on the web discuss how to install drupal in a sub-directory of your domain and to have it […]
Continue Reading

→
Calendar

November 2022
M
T
W
T
F
S
S
« Aug
1
2
3
4
5
6
7
8
9
10
11
12
13
14
15
16
17
18
19
20
21
22
23
24
25
26
27
28
29
30

Meta