Currently viewing the category: "Linux on Windows"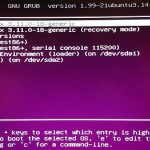 When setting up a dual-boot computer or even simply a new Windows computer:
1. Have a Linux Live CD/DVD/USB handy. It's almost guaranteed that you will need it even if you're only installing windows.
2. Save the MBR ("Master Boot Record"): Boot your Live linux and in the terminal type:
sudo dd if=/dev/sda […]
Continue Reading

→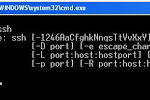 I needed a simple ssh client for windows. Here's what I did when installing OpenSSH, this worked for me, so hopefully will work for your install of ssh as well 🙂
Get OpenSSH for windows from sourceforge.net (http://sourceforge.net/projects/sshwindows/files/OpenSSH%20for%20Windows%20-%20Release/)
Run the installer, accept defaults of set the options to your liking.
Now SSH is […]
Continue Reading

→
Calendar

December 2023
M
T
W
T
F
S
S
« Aug
1
2
3
4
5
6
7
8
9
10
11
12
13
14
15
16
17
18
19
20
21
22
23
24
25
26
27
28
29
30
31

Meta