Currently viewing the tag: "installation"
This issue looks very much like a bug to me:
You start a brand new Linux installation You select wired Internet connection during install Your brand new Linux has no wireless connectivity (not even the drivers!) upon first boot.
This is what I did to fix it (on my Toshiba satellite with Fedora 24 and […]
Continue Reading

→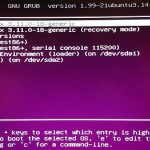 When setting up a dual-boot computer or even simply a new Windows computer:
1. Have a Linux Live CD/DVD/USB handy. It's almost guaranteed that you will need it even if you're only installing windows.
2. Save the MBR ("Master Boot Record"): Boot your Live linux and in the terminal type:
sudo dd if=/dev/sda […]
Continue Reading

→
Calendar

September 2023
M
T
W
T
F
S
S
« Aug
1
2
3
4
5
6
7
8
9
10
11
12
13
14
15
16
17
18
19
20
21
22
23
24
25
26
27
28
29
30

Meta