From the monthly archives: July 2016

So you got this brand new (or hopelessly old.. does not really matter for the purposes of this exercise, hehe) computer… It's got some USB ports, but who knows what they are (USB 3.0? 2.0? 1.0?) ?
How can you check what kind of USB ports does your Linux box have? Alternatively – how can […]
Continue Reading

→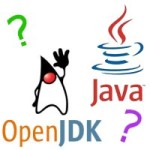 Many of the major Linux distributions come bundled with OpenJDK Java instead of the "standard" Sun Java or — since Sun Microsystems acquisition by Oracle in 2010 — Oracle Java. One such distro is Fedora, for example.
Open JDK is ok in most cases but there are situations where you need to install the "real" […]
Continue Reading

→